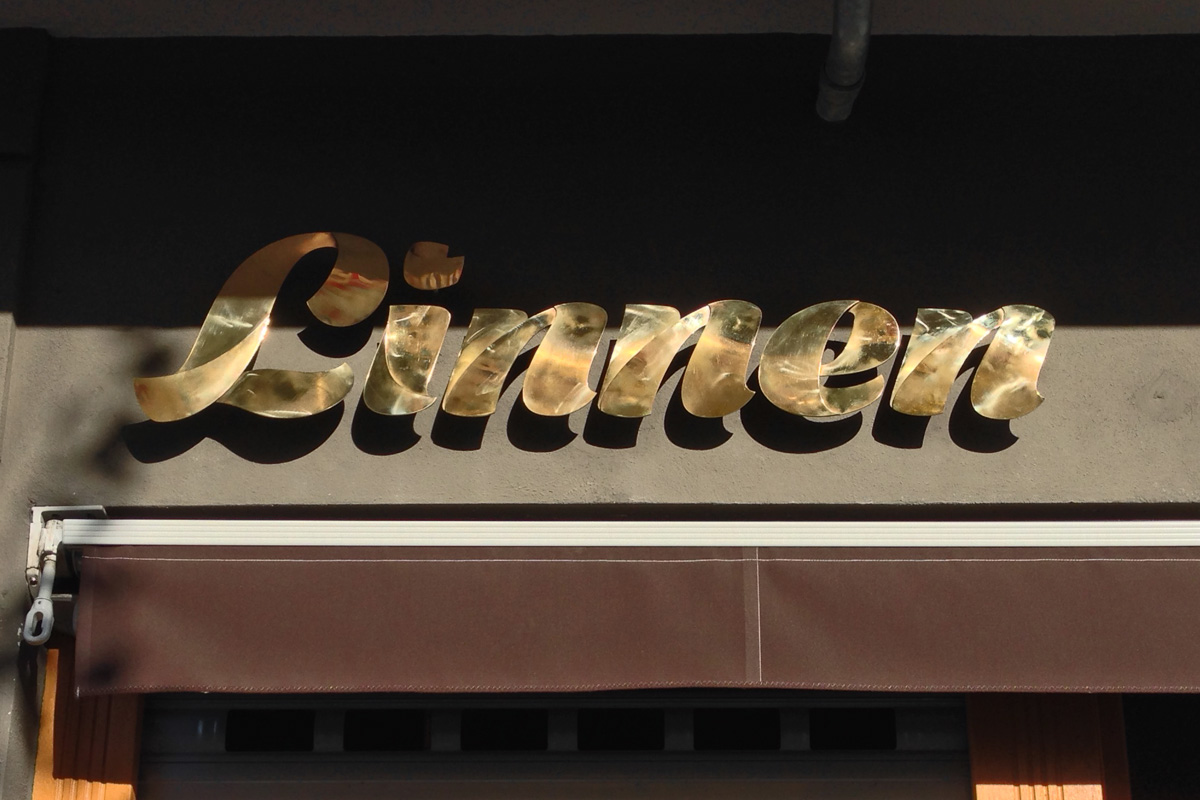 Das Linnen ist ein Unternehmen in Berlin, das neben Ferienwohnungen ein Bed & Breakfast in der Eberswalder Straße betreibt. Charakteristisch für das Linnen sind die individuell eingerichteten Zimmer und Suiten, in denen sich Neues und Gefundenes harmonisch mischt. Der vom Kunden ausgewählte Entwurf basiert auf meiner Schrift »Ludwigsburg fett«. Die Buchstaben wurden so überarbeitet, dass Assoziationen zu umgeschlagenen Stoffen entstehen. Im nächsten Schritt haben wir zwei weitere Formen abgeleitet: eine zweifarbige und eine mit plastischem Effekt. Die drei Varianten erlauben, zu spielen und auf Bildhintergründe oder Produktionsweisen einzugehen. Das Logo bleibt zu allen Zeiten wiedererkennbar und ein Eye-Catcher. Für Linnen malten wir auch Schilder in traditioneller Technik, die im Außenbereich vor allem das Café bewerben.
Linnen is an enterprise based in Berlin that offers holiday apartments and runs a Bed & Breakfast on Eberswalder Street. Characteristic for the Linnen style are individually dressed rooms that blend new and found objects harmoniously. The client selected a draft based on my typeface "Ludwigsburg fat". We reworked the letters in a way to evoke connotations of folded fabric. In the next step we deduced two more versions: one in two colors and the other with a three-dimensional appeal. The three variants allow for playing with different image backgrounds and production techniques. The logotype remains recognizable and eye-catching at all times. For Linnen, we also painted signs in traditional letter-painting techniques that specifically promote the café on street level.
Logo Linnen. Studio LetterinBerlin Albertoni & Grögel, Berlin. Auftraggeber Linnen Berlin. Metallschild Sebastian Summa, Berlin.