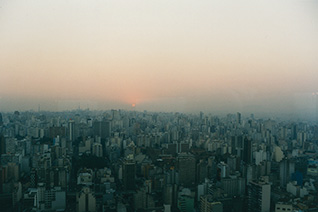 Ich liebe es, zu singen. Ich spreche und schreibe Deutsch, Englisch, Französisch und brasilianisches Portugiesisch.
Von 2011 bis 2014 arbeitete ich mit Elena Albertoni im gemeinsamen Studio LetterinBerlin zusammen. Wenn ich auf diesen Seiten von »wir« spreche, heißt das, wir haben es gemeinsam gemacht.
Ich unterrichtete mehrfach angewandte Typografie und Lettering im Lehrauftrag. Im Sommersemester 2009 sowie im akademischen Jahr 2010/11 an der FH Potsdam und in den akademischen Jahren 2013/14 und 2016/17 sowie im Wintersemester 2017/18 an der FH Bielefeld.
Ab September 2009 lebte ich für ein Jahr in Holland. Dort habe ich den Masterkurs Type and Media an der Königlichen Akademie für bildende Künste (KABK) in Den Haag absolviert. Es ging mir darum, meine Fähigkeiten im Bereich Schriftentwicklung zu vertiefen und um eine Fortsetzung meiner Forschung zu spachkulturspezifischen Schrifttraditionen. In meiner Masterarbeit Hinterland suchte ich nach Wegen der Aktualisierung der deutschen Fraktur- und Letteringtradition.
Nach dem Diplom arbeitete ich für drei Jahre als Freier und fester Freier bei Fuenfwerken Design AG in den Bereichen Printgrafik, Corporate Design und Copywriting. Meinen Lebensunterhalt verdiente ich vor allem mit Corporate Design. Ich bin in der Lage, Styleguides zu konzipieren, zu texten und zu layouten.
In meiner Diplomarbeit French Délice untersuchte ich Schrift im öffentlichen Raum in Frankreich. Schrift, Typographie und Lettering sind meine Arbeitsschwerpunkte und meine Passion. Dabei interessiert mich insbesondere ein Arbeiten mit Schrift, bei dem Wortbilder wichtiger sind als die Rekombinierbarkeit der Zeichen.
Ich wurde 1974 in der fränkischen Kleinstadt Wassertrüdingen geboren. Von 1998 bis 2006 studierte ich an der Fachhochschule Potsdam (FHP). Ein Jahr davon konnte ich dank Stipendien im Ausland studieren. Das Wintersemester 2002 verbrachte ich an der École supérieure Estienne in Paris, das folgende Sommersemester an der Escola de Desenho industrial (ESDI) in Rio de Janeiro. DAAD und Studienstiftung des deutschen Volkes seien bedankt.
Ich freue mich darauf, Sie kennenzulernen.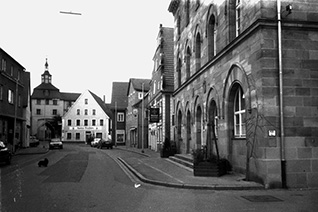 I love to sing. I speak and write German, English, French and Brazilian Portuguese.
From 2011 to 2014 I worked in team with Elena Albertoni in our studio LetterinBerlin. Whenever I speak of "us" on these pages, it means that we did it together.
I accepted several offers to teach lettering and applied typography. I taught at FH Potsdam during the summer term of 2009 and the academic year of 2010/11, as well as at FH Bielefeld during the academic years of 2013/14, 2016/17 and the winter term 2017/18.

From september 2009 on I lived for a year in Holland. I did the Type and Media master program at Koninklijke Academie van Beeldende Kunsten (KABK) in The Hague. I wanted to deepen my abilities in typedesign and go on with my research in counry- and language-specific letter cultures. In my graduation project Hinterland I tried to find ways to update the German blackletter and lettering tradition.
After the diploma I worked for three years as a freelancer and as a steady freelancer at Fuenfwerken Design AG in the fields of print, corporate design and copywriting. I earned my living mostly from corporate design. I am capable of conceiving, writing and designing a corporate design styleguide.
In my Diploma thesis French Délice I studied letterforms in public space in France which differ decisively from those on display in my homecountry. Writing, typography and lettering are a main work focus and my passion. I am particularly interested in the way of working with letters where the word image is more important than the recombinability of all glyphs.
I was born in 1974 in the Franconian smalltown of Wassertrüdingen. I studied design from 1998 to 2006 at the University of Applied Sciences in Potsdam (FHP). From september 2002 on, I studied a year abroad, the first half at École supérieure Estienne in Paris and the second at Escola de Desenho industrial (ESDI) in Rio de Janeiro. I want to thank German Academic Exchange Service and Studienstiftung des deutschen Volkes.
I am looking forward to meeting you.