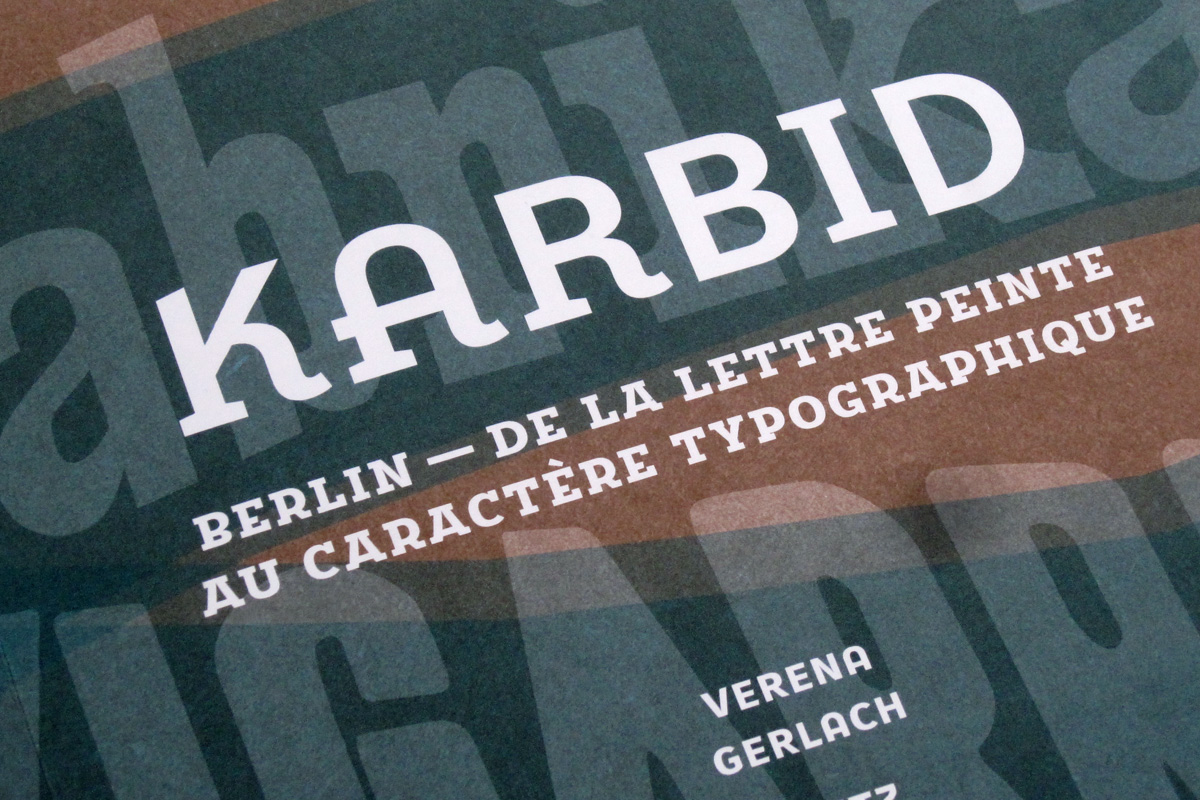 Berlin-based designer Verena Gerlach invited me to contribute as an author to her book "Karbid" that was published by Ypsilon Éditeur from Paris. My contribution consists of two thoroughly researched essays on the history of German lettering and the letter paintings of Berlin Prenzlauer Berg.
During the 1990s, Verena Gerlach strolled the streets of Berlin's north east between Hackescher Markt and her art school, KHB in Weißensee, capturing photographically plenty of the letter paintings then still preserved. Inspired by these inscriptions she drew her typeface FF Karbid that is distributed by FontShop International.
"Karbid" the book presents as much the eponymous typeface as Verena Gerlach's "letter portraits" whose documentary value today is outstanding as the extinction of these old inscriptions by renovation is almost complete.
Three deeply interesting texts enrich the book. In his introductory essay "The City, Total Expansion of the Letter" Sébastien Morlighem places the phenomenon of commercial inscriptions into a broad panoramic view and outlines the division between letter sorts, according to their use in the book and in public spaces.
Follows a detailed contemplation of German lettering art with "The Painter's Letters" by Fritz Grögel who sets forth that it is precisely impossible to apprehend the history of letters in public spaces studying the catalogues of type foundries. Instead it is lithographic albums and a closer examination of handwriting that provide valuable insights, as much regarding the relation of Roman and Fraktur letters as with respect to the enormous popularity of sans serif letters in Germany after 1850.
The third essay "Letter Painting Portrayed" by Fritz Grögel questions Verena Gerlach's letter portraits, tries to put the inscriptions in relation to the architecture and the possibilities of letter painting and to demonstrate along many illustrations how letter painters worked, what were their techniques and tricks.
Find information on Lectures on Karbid here. Find a short text extract here. Find snippets of reviews, as much as further links under Karbid critique.
Verena Gerlach: Karbid, Berlin – de la lettre peinte au caractère typographique. Trilingual edition, English, French & German. With a foreword by Fred Smeijers and essays by Fritz Grögel and Sébastien Morlighem. Paris: Ypsilon Éditeur, 2013.
—————
This article first appeared on LetterinBerlin in November 2013. Find its German version here.